"We have been ready for the last five years to help all those who want to test the standards of their foods and drugs, and we call upon food the processing industry to join us," said the Head of UR Laboratory, Dr. Muganga Raymond.
The University of Rwanda through the School of Medicine and Health Sciences operates a modern facility which called the Huye Biotechnology Laboratory Complex. Its main purposes include teaching, promoting multidisciplinary research, and offering services to people who need to test their foods and drugs.
The laboratory is located at UR Huye Campus where it is operated by competent experts from the College of Medicine and Health Sciences. Apart from aiding teaching and doing research, the facility helps industries that intend to know the standards of their products. These include milk, water, foods, & beverages like tea, juice, and drugs industries, according to Dr. Muganga. He encourages everyone who wants to put on the market products that fulfil standards acceptable by regulatory bodies to contact them.
The Lab building
"We are encouraging all those industries and factories, particularly those involved in the processing of food & beverages, and drugs to take advantage of our services because with this modern facility we have the required capacity and experience to test all products mentioned here."
The UR laboratory was established in 2015 to promote multidisciplinary research initiatives related to sciences. It has the capacity to receive at least 320 students or researchers per day. It also has an online library that can be used by 20 scholars at a time. This laboratory respects international standards , Rwanda Food and Drugs Authority, and Rwanda Standards Board.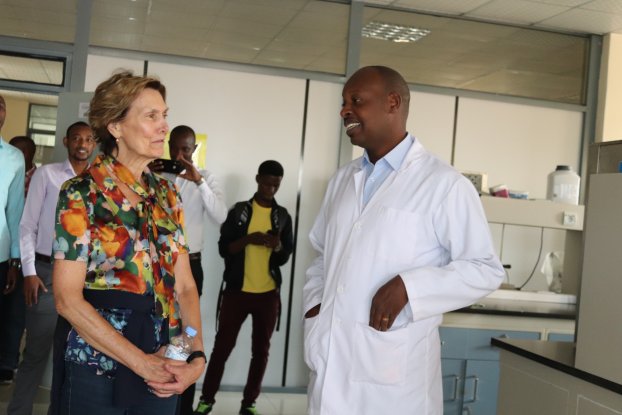 DR Muganga Raymond gives details to Patricia L. Campbell -UR Chancellor how the lab operates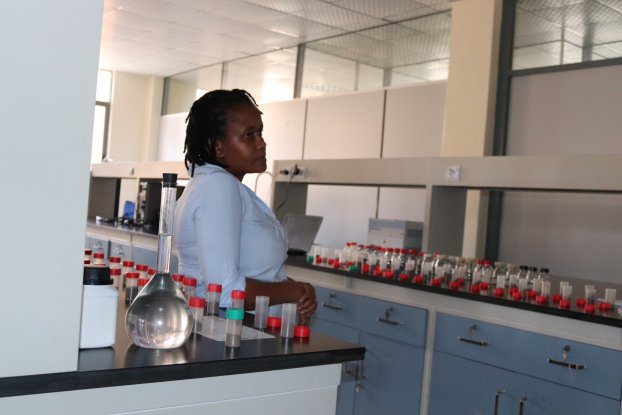 Inside the lab
Story by TWAGIRIMANA J Claude (internee)
Edited by HAGABIMANA Eugene (PR & community engagement UR-Huye Campus)