Key mission of University of Rwanda as any other smart academic institution of this era are : Teaching, research and community engagement. Particularly, UR has a special mission of supporting the development of Rwanda by discovering and advancing knowledge, committed to the highest standards of academic excellence, where students are prepared for lives of service, leadership and solutions.
In order to fulfil community engagement, one of its main missions, the University of Rwanda created many centers operating in different teaching fields. One to be mentioned today is the Centre for Legal Aid and Mediation which operates under the School of Law, College of Arts and Social Sciences (CASS).
Talking on microphone, Dr TURAMWISHIMIYE Marie Rose, lecturer in the School of Law and Director of the Centre related to us the genesis of the Centre, its special mission and its achievements :
"The Centre for Legal Aid and Mediation-CLAM (former Legal Aid Clinic – LAC) was created in 2001 and was the first of its kind to be known in Rwanda, where free legal services are provided to vulnerable people by Law students under the supervision of their lecturers. The Centre's primary function is threefold :
The first being a legal laboratory for law students where, within the module of "Legal Clinic' (offered in the third year), they are provided with 'practical legal training' and necessary exposure to the realities of legal practice through participation in legal clinic. Lecturers of the legal clinic module assist students from the reception of the cases till the provision of needed legal services. In the legal clinic, law students learn through experiments which fosters the growth of knowledge, personal skills and values as well as promoting social justice at the same time.
The second which is equally important, is the provision of quality legal aid services to the vulnerable people, by offering legal, judicial and administrative assistance, mediation, public legal education and advocacy on different legal issues.
The third is conducting adequate research on key legal questions identified from the cases brought by the people seeking for legal aid
At the Centre, mediation is prioritised, it must be sought before exercising other judicial or administrative remedies in order to help those seeking for legal aid to get justice while preserving social bonds or personal relationships.
In one word, since its creation, the centre assisted a big number of vulnerable people. In the past five, more than 3100 vulnerable people have been assisted to get access to justice and more than 7500 people have been provided with legal education. Most of people seeking legal services from the Centre come from different Districts of the Country but mainly from Districts of the Southern and Northern Provinces, specifically Huye and Musanze, where UR law students are based..
CLAM'S PARTICIPATION IN A COMMUNITY OUTREACH EVENT IN GATSIBO DISTRICT : PUBLIC LEGAL EDUCATION ON CHILD RIGHTS AND CHILD PROTECTION AGAINST GENDER BASED VIOLENCE (October 2019)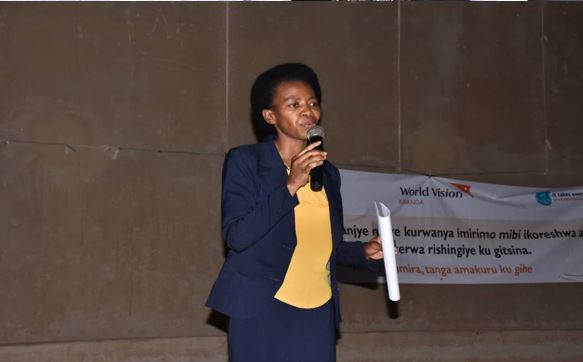 CLAM'S PARTICIPATION IN COMMUNITY OUTREACH EVENT ORGANISED BY THE UNIVERSITY OF RWANDA IN HUYE DISTRICT : STUDENTS AND LECTURERS WERE PROVIDING LEGAL AID TO THE COMMUNITY (March 2019)
Story by
HAGABIMANA Eugene
In charge of Public Relation and community engagement
UR/Huye Campus